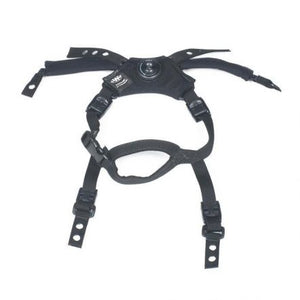 DESCRIPTION
The first stand-alone chinstrap to feature dial-adjustable fit. The Boa® Closure System provides the ultimate in stability, adjustment and fit while remaining lightweight and durable. Taking it one step further, the retention system is compatible with a wide variety of helmet liner systems as well as most common ballistic shell styles.
The Boa® system's unrivaled technology ensures the most secure fit in a matter of seconds. The addition of cam-lock sliders furthers the ease of one-handed adjustment – set them in place once and let the Boa® system do the rest. The design of the cam-lock adjustment system results in no loose ends or hanging straps, and no elastic loops that tear off and disappear.
The system responds to the dynamic loading conditions of a modern combat helmet. It is capable of withstanding the additional weight of headborne accessories while maintaining balance and stability. The straps and chin-cup have been newly designed for a close, comfortable fit to the wearer's face, with no raised bumps or seams to rub or chafe. The asymmetric design keeps the buckle tucked smoothly along the jaw line while maintaining a snug, even feel around the chin-cup. The ultra suede chin-cup lining ensures maximum comfort and chafe-free wear at any temperature.
CAM-FIT™ is compatible with ACH, MICH, TC2000 series or USMC LWH ballistic helmets.
Size Standard fits a face circumference range of 26-29" (this size fits most ACH M, L, and some XL wearers).
Size 2XLarge fits a face circumference range of 27.5-32.5". Users have multiple set-up options depending on head and face circumference.
Compatible with the CT-STRIKER Series ballistic helmets.